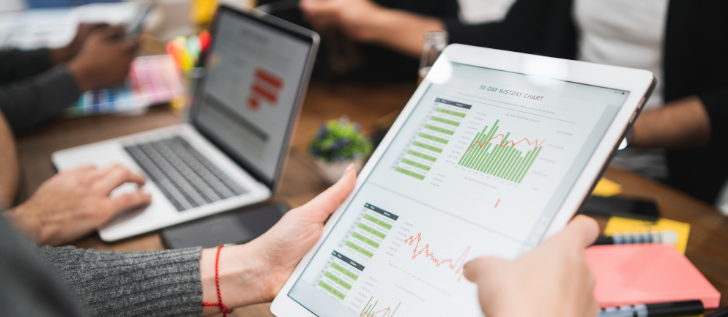 Google recently announced that from 1st July 2023 Universal analytics will no longer be tracking new hits for your website or app. From that point it will be solely Google Analytics 4. What does this all mean though for you and your business? This blog post will explain the impact of Google Analytics 4 and what we recommend your business does going forward.
You can already use Google Analytics 4. With the busyness of day-to-day life then right now, you may feel like your business has plenty of time before you need to worry about making any changes. Our recommendation is actually to take action as soon as possible. The blog post below will explain how the new google analytics will be a benefit for your business, and why you should plan your next steps to get the most from these changes now.
Creative director at 1PCS. Addicted to design, SEO, pizza and helping companies big and small succeed online.
Time for a Google Analytics history lesson
If you are reasonably new to Google Analytics then it is worth recapping on what has lead to Google Analytics 4 now being rolled out.
Google Analytics was first launched in 2005 with the purpose to provide users with a Google Analytics account the ability to monitor the interaction of users on their website, along with reporting on website traffic among other tasks.
Giving your business the ability to track your website and see how it is performing. Providing vital information and data to support your team with planning your marketing budget and reviewing campaign performance.
Here is a quick summary of the timeline:
2005: Google first launched Google Analytics
2012: Universal Analytics was rolled out
2016: The launch of Google Analytics 360
2020: In October Google Analytics 4 was launched
Perhaps looking over the years at the timeline you might be wondering 'if it isn't broke, don't fix it'. However with technology advancements and privacy changes in recent years, Google have had to adapt their tracking of user behaviour and data collection for both the present day and also to future proof for changes yet to happen in the coming years.
It is worth noting if you use Google Analytics 360 then you have until 1st October 2023, however we still recommend switching to Google Analytics 4 much sooner than this which we cover below.
As Google Analytics 4 was launched in October 2020, if you created your website since then it is likely you are already using Google Analytics 4. However our team are happy to double check this if you are unsure if you are using Google Analytics 4 or Universal Analytics.

Gone are the days of typing up reports and findings on a typewriter! 
Universal Analytics: The use of cookies
The majority of businesses will currently be used to looking at their reporting and insights from the use of Universal Analytics, which you might be using with Google Tag Manager. For your Universal Analytics property or Universal Analytics properties, which to clarify when Google says 'property' it is referring to existing universal analytics property which is your websites or apps. These are your 'property'.
Universal Analytics enabled through tag installation the ability to start collecting data and through that tracking code, the ability to look at user behaviour along the customer journey for active users on your website. There are standard universal analytics properties to allow you to automatically start collecting data, but also the analytics data can be deep dived even further with additional implementations to analysis the data even further.
However when Universal Analytics was developed it was with desktop use in mind. We now live in a world of interacting with a company on desktop, mobile apps and tablets. Therefore there is a limitation to fully understanding the customer journey.
Universal Analytics works by using a third party cookie to collect data and track 'hits' on your website for example page views and purchases. With privacy restrictions on the increase and potentially the end of third party cookies in the years to come. Google has tackled this head on with their technology to launch Google Analytics 4 in October 2020.

When we talk about the use of cookies for Universal Analytics, we don't mean the delicious kind.
Google Analytics 4: The future
The official announcement from Google was "On July 1st 2023, standard Universal Analytics properties will no longer process data. You'll be able to see your Universal Analytics reports for a period of time after July 1st 2023. However, new data will only flow into your Google Analytics 4 properties"
At the time of writing it is expected historical data will be available for 6 months after July 1st 2023 to access. This will only be the historical data stream, all new data will then be tracked within the new version of Google Analytics.
Google Analytics 4 will offer many benefits which is one of the reasons why we recommend switching from Universal Analytics sooner rather than later so you can make the most of these. Also it provides an opportunity to compare reporting and tracking to Universal Analytics as they can be run side by side whilst you can still track data for Universal Analytics.
Benefits include:
Future proofing: Google Analytics 4 has taken into account the current changes to privacy regulations but also user privacy changes that Google know will likely be coming in the future. Whilst Google Analytics 4 uses cookies, it is not dependent on it for tracking data points or to enable data collection. Google Analytics 4 does not store IP addresses which is important for privacy regulations. So you can rest assured the data coming in is following privacy regulations correctly.

Machine learning: Where Google Analytics 4 differs to Universal Analytics is the ability to predict insights. They have created advanced machine learning that can provide insights and predictions which will help with understanding expected user behaviour. These insights will help when it comes to planning future marketing campaigns and updates for your website, to ensure you are maximising the potential value of each customer.

Event tracking: What this means is Google Analytics 4 will have a focus on looking at individual events. Events are interactions such as page views, clicks and scrolls on a page, playing a youtube video and downloading a file. This enhanced measurement includes for an ecommerce site reporting on the value of purchases made on the website. With this path analysis it provides increased opportunity to look at the highest purchase probability and predictive audience to look at ways your website or Google Ads could be optimised.

Reporting: We touched on this above, Google Analytics 4 provides reporting across devices and platforms, whereas Universal Analytics is focused on desktop usage. Therefore these changes will allow for advanced customisation to analyse the user journey on your website. You can even look at a realtime report with data being as recent as the last 30 minutes!

Google Analytics 4 accounts for changes now and in the future
Hopefully from our blog post you have been able to see how Google Analytics 4 will be able to benefit your business. If you are unsure if you are currently using Universal Analytics or Google Analytics 4, please feel free to get in touch and we can happily help you to see if you still need to switch to Google Analytics 4.
It is worth noting as we mentioned above Google Analytics 4 tracks based on events rather than sessions, therefore when switching to Google Analytics 4 it is important to ensure the events are set up correctly to track your conversions, and removes any duplicate tracking. With the improvements and increased machine learning of Google Analytics 4, it has meant the set up and data collection has a more manual and detailed process than Universal Analytics to make use of its full benefits.
Feel free to get in touch with the team who can happily help with the transition to Google Analytics 4. We can ensure it is configured correctly, so your business is gaining in-depth insights and knowledge on your customers journey and behaviour. Enabling you to optimise your website to increase the number of customers and their value too.