Engaging websites for your members
Showcase your organisation on a custom-built membership website and create an online mobile-enabled presence. A great way to present your organisation professionally to help you grow your membership base and add value to your members.
A membership website will work on two different levels. All visitors should be able to access the general content which includes an overview of who you are, what you do and the benefits of becoming a member. Once you become a member you will have access to more information. A separate, gated section of the website providing another level of content for your members, benefits and offers.
Membership websites for a range of organisations
| | |
| --- | --- |
| Clubs | Associations |
| Trade bodies | Institutions |
| Franchises | Charities |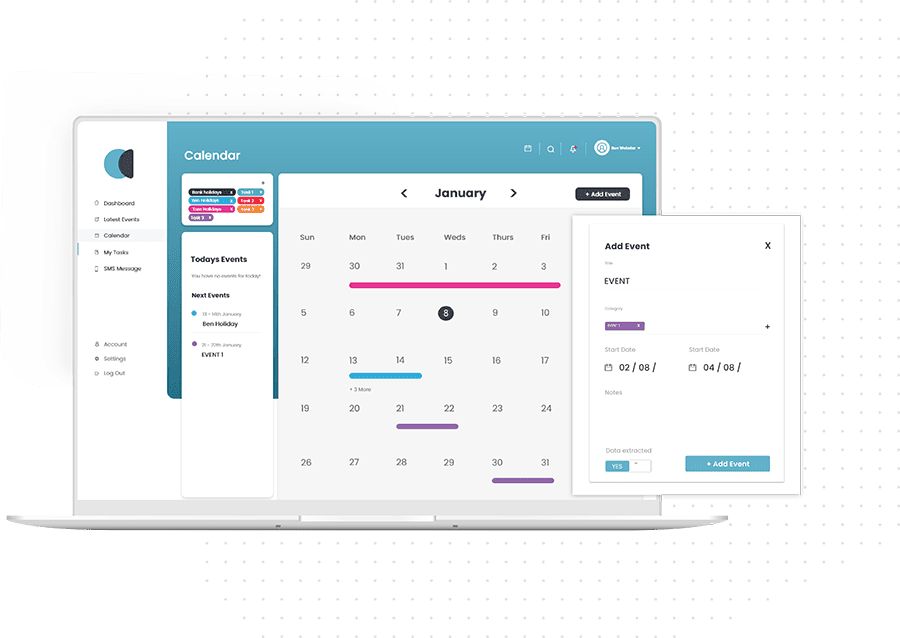 Membership website features
Integrated database
Every membership organisation will operate a database. If you are an established business you may have multiple sources. We can build and host a single database in the cloud – safe secure and backed up. You can then search this data and segment your membership to enable you to customise your communications.
Automated emails
A great way to monitor member engagement levels is through your email analytics. Who is opening emails, reading them and taking action? You can send event confirmations, reminders and promote your newsletters and updates. An opportunity to engage with your members on a personal level.
Membership portal
A section of your website that is exclusive to members. They will need to go through a login process to access this area. Here you can explain in more detail how members can sign up for the benefits, discounts and additional content.
Gated content
This is part of the members-only section of the website. You can provide exclusive content in the form of the latest research, expert opinion on industry topics and podcasts or webinars. A great way to encourage members to visit regularly for the latest information.
Member profiles
Give your members a presence on the website, a great way to build the community. An opportunity for them to customise their profiles and provide more information about their company. Automated updates can be sent out when a member is added or their profile changes.
Event management
Many organisations provide regular events which are popular amongst members. Event calendars with customised registration forms and payment methods make this an easy process. Automated reminders will ensure greater attendance at these events.
Mobile apps
1PCS have developed iPhone and Android apps to allow members to log in on their phones. They can access member benefits when away from the office. And creating e-tickets for events to display on your phone is another great benefit that supports event management.
Online payments
Provide payment options for new members online and set up automated renewals. A really simple process that enables you to generate invoices and easily update payment details. Access all the financial information to give you the latest view on membership revenue.
Functional, member-focused websites
At 1PCS we are passionate about building membership websites that deliver what our customers need. The design and build are carried out by our team of in-house developers. You will never deal with a third party and it all starts with understanding your membership model.
What are you offering to members versus non-members?
What are your levels of membership, corporate and individual packages?
 What are your fees for membership?
This information will help create the technical specification. The build will include member sign-up and renewal process, the online membership portal and sign-in protocols as well as the level of integration needed with other systems and databases. We take care of the technical details so you can focus on the navigation and member experience on the website.
Let's get started. We'd love to hear from you.
Frequently asked questions
Once my website is launched can I make changes to it?
Yes you can. Many of our customers are keen to take ownership of their content and make changes whenever they need to. The main website platforms we build on are, Bespoke PHP, Magento and WordPress. Each of these has a content management system (CMS) designed to help with the easy uploading of content. We will provide you with initial training when your website is launched and are always here should you have any questions.
Do I own the website once you've built it?
Yes, once we have launched the website and you have paid for our services it is owned by you. Many of our customers benefit from ongoing support and maintenance which includes hosting the website with us. If you decided, for whatever reason, to move your website to another provider, we would assist you in this process. We always aim to nurture long-term relationships so you feel comfortable at whatever stage.
Looking to grow online? We can help