Social Media Management Northampton
Let us save you time by managing your social marketing. We have over 20 years marketing experience giving us the expertise and knowledge to manage social media for our clients. Our social media manager and team can improve your social media performance and social media presence. Whether that be on Facebook pages, Instagram, LinkedIn or Twitter. We are an experienced social media agency in Northampton, managing multiple social media accounts and deliver meaningful engagement with your followers and target audiences on social media.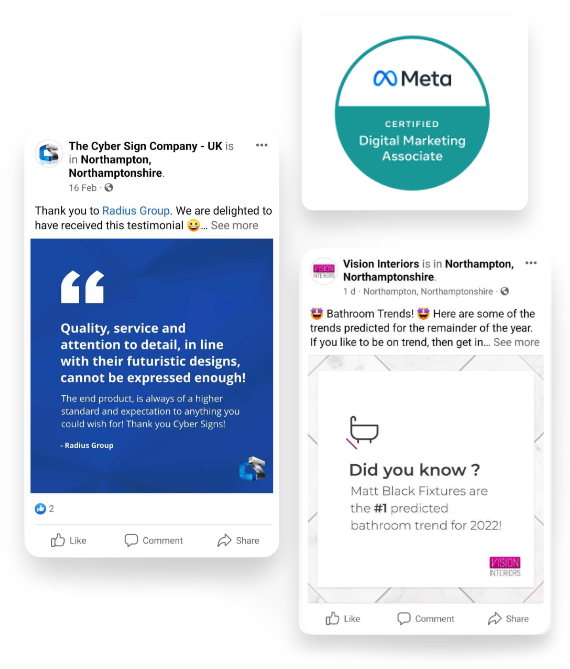 Social Media Management Services To Increase
Your Brand Awareness And Grow Your Business
There are different elements to social media management. 1PCS Creative have over 20 years marketing experience and can look after every element of your social media management:
Content Pillars & Scheduling
As part of our social media management our social media team will perform a review of your social media efforts to date. Providing a recommended plan of your key content pillars for your target audience and social media strategy. Examples of recommended posts may include testimonials to increase your credibility or regular tips and facts to educate your audience.

A content calendar is created to deliver regular content for your marketing strategy. Through our visual content calendar and scheduling tools we can make sure there is always variety in the content being published to keep your followers engaged. Along with ensuring content is scheduled for the best time for your business to reach as many people as possible.
Ad Campaign
We are a social media agency in Northampton and proud to be Facebook Accredited which means we are qualified in creating and managing social media ads across Facebook and Instagram. Social media ads are a powerful tool to increase your brand awareness with potential new followers from your target audiences who would be interested in your business. We can set ad budget limits so you are always in control of how much is being spent on the campaign.

Advert campaigns can be targeted right down to specific demographics, interests and location. For example 30-60 year old females who are interested in handmade crafts living in Leicester. Social media adverts are an excellent tool to increase brand awareness, generate leads and increase sales. We regularly optimise adverts to deliver the best results for your ad spend.
Copywriting
With social media being a competitive space to keep a users engagement. Copywriting plays a key part of social media management to ensure it grabs followers attention so they want to click 'see more' to find out more about the post. It may seem a simple point, but we ensure there are no spelling or grammatical errors. We copy write each post with the relevant business tone of voice whether you prefer to always be professional or prefer a casual approach to your copy.

As part of our copywriting we include relevant hashtags which help to reach the right audience for your business who may not have yet discovered your social media channels. We also include brand mentions where applicable to gain further brand exposure and awareness, encouraging further user engagement on the social platform.
Graphics
Included within our social media management services are branded graphic templates designed by our in-house studio. Social channels are an essential part of your marketing efforts, so it is important any graphics used on a post are designed using the relevant branding including any brand colours, fonts, and logo.

We ensure all social media posts look and feel is always consistent and keep your followers engaged with your content. Examples of branded templates include sharing a positive testimonial or for sharing tips and facts about your business, team and industry to educate and help your audience.
Enquiry & Community Management
Ensuring your potential customers and followers have a prompt response is an important part of your customer service. As part of managed social media we respond to all direct messages. Providing any relevant details they need such as direct contact details to get a quote or to request further information.

We respond to any comments made on social media posts as your business. We ensure any messages and comments are sent using your tone of voice to ensure all communication is in line with your branding and business. Saving you time not needing to keep logging into your social media account to check for any messages or comments.
Reporting
We analysis and look at all the data on your multiple accounts to see how they are performing on a daily or weekly basis to ensure your social media is performing to its highest level. On a monthly basis we review the social media analytics to provide your business with a full report on all social channels we manage.

This report provides a variety of data including reach, engagement and demographics. Reporting is broken down by social channel so you can see how each business page is performing. We use our analytics tools and do market research to provide recommendations and optimise for future content planning and creation for your social accounts.
End-To-End Social Media Strategy
At 1PCS Creative we are a social media agency in Northampton and manage the entire social media marketing journey for our clients. Including planning and scheduling posts in advance tailored to the best time to reach your followers. We design graphical templates bespoke to your brand assets and copy write your social media posts to suit the tone of voice for your business.
The social media management we deliver includes a variety of content creation to keep your followers engaged, increase brand awareness and ultimately increase enquiries and sales for your business.
Let's get started. We'd love to hear from you.
We are proud to be Facebook Accredited. The Facebook Certified badge shows we have passed the relevant Facebook Digital Marketing Associate certifications exams which recognises advanced level proficiency for Facebook and their services.
As part of this we are qualified in creating and managing adverts across Facebook and Instagram. Along with being up to date with the latest platform updates which enables us to deliver content to a high standard for our clients.
Frequently asked questions
We offer several packages for social media management which we recommend based on your business goals and growth plans. The cost can vary depending on the number of social media accounts, how many posts and number of branded graphic templates. We provide a bespoke package for your business which can be scaled as and when your business wishes to increase their presence further on social media.
We can tailor your social media management to suit your business. We can happily manage all your social media platforms or if you prefer we can manage a select few. Businesses have benefited from outsourcing their social media accounts significantly for Facebook, Instagram and LinkedIn. Saving their team time to focus on other areas of the business.
We can happily provide you tips and guidance on the best methods for taking any photos or videos of finished projects or behind the scenes to feature on your social media. We are here to guide and support every step of the way and we understand for some clients they have had no experience with social media to date. We understand the image sizes and best practices for each social media platform to ensure we get the most from your social media accounts. Alternatively, if budget allows we could engage a professional photographer or videographer.
Looking to grow online? We can help