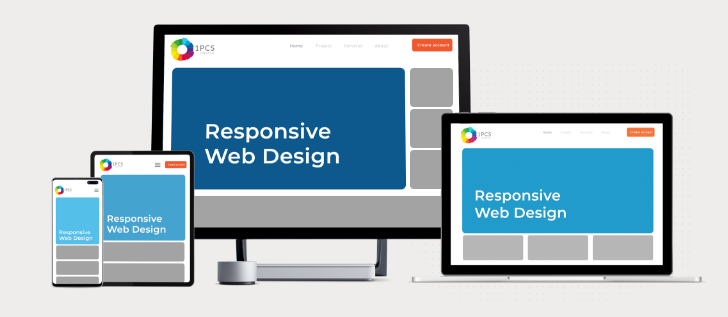 In this blog post we will cover what we mean by using a responsive web design and why it is important for your business.
You might be guilty of only looking at your website on your desktop whilst in the office, which might look fantastic! However, it is worth also checking on your mobile phone and tablet to compare. 
The experience you have on your mobile phone should be as positive as on your desktop. By this we mean easy to navigate, dynamic images and no need to scroll horizontally to name just a few things! We go into more detail below.
This is important to your business because without a responsive website you will likely be missing out on traffic to your website and potential customers going onto place an order or enquiry. Leading them straight to your competitors. This blog post will show you how you can ensure traffic is coming to your website. 
Creative director at 1PCS. Addicted to design, SEO, pizza and helping companies big and small succeed online.
What do we mean by a responsive website?
A responsive design means regardless of the size of screen you visit a website on, you will still have a positive and user-friendly experience.
Whether that be on your mobile first, mobile tablet, large desktop or smaller screens.
Let us deep dive into what needs to be considered for your website to be responsive for different devices and how that can help your business going forward.
With 54% of people making their online shopping purchases through a mobile device. Can you think of a time yourself when you tried to make purchases online and the user experience on mobile was a nightmare. 
In the end it lead to you abandoning your cart or maybe you didn't even get that far! We don't want that for your business.
In fact 40% of users as a result of a poor mobile experience have visited their competitor's website instead. This is because they only focus on a good desktop screen experience not mobile too. Without the design being flexible to suit mobile devices it will lead to losing traffic and potential enquiries and sales.
Having a responsive web design so your website provides an enjoyable experience regardless of different devices and different screen sizes in 2022 is in reality now a must, not a desirable requirement to grow your business further online.

Don't be in the 20th Century! Your website should be mobile friendly.
Now we have established the importance of web designs to be responsive from a large desktop right down to mobile phones. It is time to discuss examples of responsive web design. Here are some pointers on how your responsive design should work across different screen sizes:
No horizontal scroll – There should be no need to scroll horizontally across a website. Your website needs an adaptive design to ensure all web pages work functionally and aesthetically regardless of the device width.


Mobile menu – As part of this it is important the menu for your website is shown at the correct size on different screen sizes or browser window. Otherwise they could miss vital information about your services and business. You don't want them to struggle to find their shopping cart!


Dynamic Image Sizing – When you look at images on your website these need to be flexible images on each web page so regardless of the device width initial scale, there isn't a need for the user to pinch the screen to zoom into images!


Fast loading on 4G & 5G – Think how fast paced business is these days (showing our age I know!) The last thing you want for a potential customer who has come to your website, is for them to have to wait for your images or web pages to load. Slow load times are one of the biggest factors leading to traffic turning to other sites – who do have a responsive web design!


Clear call to actions – If we asked any business 'do you want a potential customer to be able to contact me as quickly as possible from my website?' The answer of course will always be yes. Who wants it to be difficult or slow for a customer to get in touch.


A fantastic feature of a responsive web design is the ability for potential customers on your contact us page to simply click to call the business phone number. Or click to send an email, opening up in their email provider to easily send through their enquiry or quote request from their mobile. Gone are the days of jotting down on pen and paper!

Consistent visitor experience – The reality is today users are viewing websites from multiple devices. Imagine one of your best customers wants to recommend your business so they share a link to your website from their browser window, which on their screen size looks exactly as you would desire. However the end user, your potential customer ends up with a completely different experience when viewing the mobile version whilst out and about.


Fluid layouts to suit any device using responsive images and a flexible design for any screen width and screen resolutions is vital for your business to keep a user engaged. Don't lose a potential customer at that very first hurdle because you don't have a responsive web design.
You don't want your website to fall at the first hurdle! Make it responsive.
Save time and money for your business
In times gone by an old school method of creating a mobile and desktop website was to create two entirely separate websites. One for use on a desktop and one for mobiles. Depending on which device your user was viewing from would in turn determine which site would load. Even back then this was a bad idea but you can still find some websites using this technique.
Having two separate sites that potentially show different graphics or shortened content is not good for Google rankings.
Whereas, a responsive design which has been set up with the correct rules will mean any SEO campaign is focusing solely on the one website. Whilst ensuring the web pages work dynamically and flexibly for each device from one central point. Keeping both Google and your potential customer happy.
Day-to-day maintenance and updating a responsive design is much simpler, for example when you have new products or services you want to add or perhaps amend as your business grows and expands its offering.
A responsive web design adapts to changes in screen sizes so whether it be a mobile device, smaller screens perhaps a tablet for example or right up to a large media screen. Making a responsive design is a worthwhile investment in comparison to the old school approach.
Sometimes it's not cool to be Old School! Save time and money with a responsive website.
Here is some more music for your ears! If you ignored all of the above. Another huge benefit which is why your business needs a responsive web design. SEO Ranking. That's right, Google actually takes into account with their algorithm whether or not your web design is a responsive design or not.
They reward the businesses who have taken the time to create a responsible design. They do this with giving your business a higher ranking and index. This means when people are searching for your keywords your company will show sooner in the search results.
The reason they take this into account as part of their algorithm is because they feel it is essential, in fact an absolute necessity for users when clicking through to a business from their search engine that they have a positive experience.
Google wants the traffic it directs to your site to be engaged with your content, continue to read and interact with your pages and not quickly bounce back onto Google. Because the font size was far too big to read without constantly scrolling, or there is no white space to be seen and there are no responsive images or worse the images won't load!
Bear in mind a web design only created with the sole purpose of used on a desktop often takes longer to load on mobile phones. Google found that 61% of people are not likely to return to a mobile site they struggled to access. Worse than this, a massive 40% then went straight to a competitor!
Let's ignore Googles view for a moment. Ultimately a responsive design positioning your business with a higher ranking equals more traffic to your site, your potential customer has a good experience of your brand and results in more enquiries and sales for your business. Ahead of your competitors. The stats above speak for themselves.

Responsive websites improve SEO Ranking. That's surely music to your ears!
Time to check if you have a responsive design
If you have enjoyed reading our blog post but been wondering if you already have a responsive design or not for your business. Google actually provide support for you to be able to double check if you have a mobile friendly site. Reach out to us on the contact details below and we can happily point you in the right direction.
We can also double check if your site meets Googles standards for responsive mobile first experience. One of many important factors to consider for your website to ensure you are achieving the highest results for your business.
Get in touch today to speak to one of the team. We are more than happy to help and can discuss your business plans to see how we can support you to reach your goals.