Posting regularly on social media with impactful content can help a business to increase their social presence online. Social media has become a powerful tool to communicate with your customers and grow your audience to build trust and credibility.
A study found that 75% of internet users use social media to research brands. Therefore it is important the social media postings are delivering the right message across the different social media platforms. The challenge can be knowing what to post to share with your social media followers.
Our blog post will provide social media post ideas to help with your social media strategy and social media calendar in the future. We will cover the main popular themes with social posts which can be used across multiple sectors and industries, including business to consumer and business to business.
Social Media & Paid Ad Specialist at 1PCS Creative. Love engaging and impactful social content, family time with my little girl and helping companies grow and build their presence online. 
Before planning social media posts it is worthwhile taking the time to understand your target audience and establish what their interests are. This will help you to decide the right type of posts to show on your social media pages. For example, depending on the target audience they may respond better to different approaches such as humour or providing factual advice.
This can then be taken into account when generating your social media ideas. Also ensure to have a strong understanding of the social media channels you will be posting regularly too. Firstly to make sure your target audience is present on that social media channel. Also to know which types of media and approach works best for each. For example video content is popular for Instagram and TikTok.
Doing research into your target audience, social media platforms and your competition will help to enhance your social media posts when planning your marketing strategy.
Content ideas which can keep the interest of your social media followers and prospective customers are sharing behind the scenes posts. This could be showing the workings behind a particular project. Which could be scheduled as a grand reveal afterwards.
People tend to enjoy getting to feel they are seeing exclusive content and also would only get to see by being a follower of your social accounts. It makes followers feel included and getting to view something unique. This could be a sneak peek of a product or new service you might be about to offer.
For particular sectors it can be fascinating to see the inner workings of how something is made, such as the manufacturing industry. Or seeing a short video clip of 'the day in the life' of one of the team in their social media feed.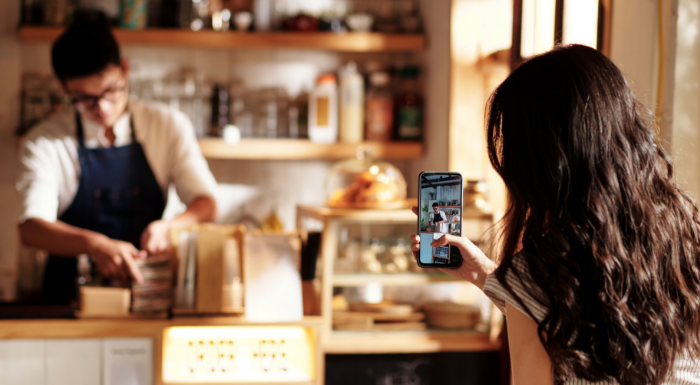 Businesses with a social media strategy as part of their goals usually will want to build trust with their audience and potential customers. One way to do this is with user generated content. This differs to influencer marketing as it should be authentic and relevant content created by real customers who haven't been paid to do so.
A study found that customers are 2.4 times more likely to interact with user generated content versus branded created content. Businesses can encourage customers to share their experience with your product or service on their own social media pages, which you can interact with and go onto share on your own social accounts.
This helps to build a more personal connection with your audience and can help to gain new followers. Rather than people relying on your word of how helpful your business is, they can see for themselves from real customers how much you have helped them and shows their genuine reaction. It helps to build trust much quicker.
When choosing your social media content for your content calendar, not everything has to be curated content. A business can build more engagement and awareness if they share industry news and posts from trade publications.
If a major publication has shared a news update valid for your industry, you could share this content in your brand voice with your take on that post and topic.
By including engaging content which is relevant to your field with your point of view, it can help to position yourself as one of the industry leaders. Including a mixture of posts in your content calendar can help to keep your audience engaged.
This could include sharing trending topics and asking your audience what they think to encourage engagement and potentially new ideas to include in your future content too.
A fun way to encourage engagement in your post content is to share more about your company culture and your team. Posts should be captivating and not solely sales focused for your target audience. Share photos with your audience of any company events such as awards, birthday or work anniversary celebrations.
Top performing posts often can be 'meet the team' posts sharing more about different members of the team. Both on a professional and personal level so it can create a personal connection with your followers. This could be live videos, Youtube videos or share photos of the team in their work environment or what they have got up to at the weekend.
Your social media marketing could include any charity or local involvement to build a strong local presence. For example if you sponsor a local sports team or encouraged donations for a charity you support. Include on your social media accounts how those donations helped others and feature any voluntary work your company is involved in.
Sharing on a social media network the company culture and local involvement can help to distinguish your company ahead of other brands with your social media presence.
It is important to only include elements about your company benefits and approach in your social media marketing strategy which stand true to your business. It is essential to be authentic, as brands have been caught out before for not being real with their social media posts.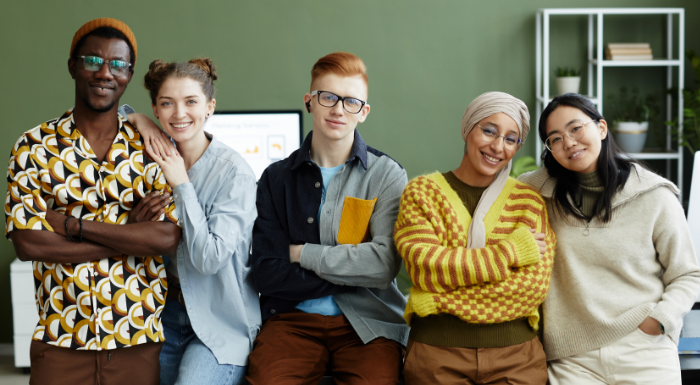 Testimonials and Case Studies
Sharing success stories is another impactful way to raise awareness and build trust in your business and the products or services you offer and help to build a loyal following. This can be included in your social media content ideas in several ways and can vary by social media platform.
Planning posts which share testimonials or reviews from happy customers are effective to help demonstrate your brand values. For example if you pride yourself on the speed and efficiency of your customer service.
If share positive reviews which demonstrate clearly how quickly you helped them is a great social post to support your company culture.
To create content for these post ideas it could be visual content, such as a branded social graphic of the positive reviews in a social media post, or could be a short video clip with their kind feedback. It is best if possible to keep this to 60 seconds or less.
For business to business companies, sharing case studies including facts and statistics where possible can help to boost engagement on your social feed. Due to wanting to keep your social media posts from being too lengthy, it is a perfect way to drive traffic to your website.
Top line information could be given in your post guiding your audience to go onto to find out more on your website or the company's blog posts.
We hope our blog post was helpful to give you tips and advice on ideas for posts for your social media feed and social media marketing plan. Above are just some of the potential ideas you could include on your social media channels. It is important to tailor your content ideas to suit your business, industry and target audience.
At 1PCS Creative we can look after everything for you with providing social media management. This includes your social media content ideas as part of your marketing strategy, along with scheduling and community management. We are experienced in delivering impactful social posts to help build awareness and boost engagement on social media.
Please feel free to get in touch to discuss how we can help with taking care of your social media accounts for your business. We would be happy to review your current social media pages to see where we can help.